This has been a long week.
I can hardly remember last weekend.
I'm sure it was great though.
Who knows what crazy shenanigans we will get ourselves into.
But you can bet there will be pictures.
Because that's what you do when pictures are being taken.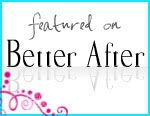 I'm sure most of you have.
It's a wonderful place to get ideas for turning junk
into beautiful furniture.
I know what you're thinking.
Holly was featured on there?!!!
I know, crazy world we live in.
The post is about this chair.
I've been doing some crafting around here.
Making a lot of cards to have on hand
so I don't have to make one each time.
I use a lot of Post it Notes.
I used a cheapo acrylic frame and scrapbook paper.
Too much time on my hands, ya think?
Holly
xx-oo